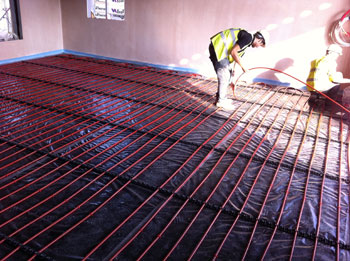 Case study 1 Scunthorpe School
Underfloor Heating and Flowing Screed
Yorkshire Heat and Screed completed this complex underfloor heating and wet screed installation at a large school in Scunthorpe early in 2012.

The installation comprised of over 1700m2 of insulation, underfloor piping and Gyvlon low laitence flowing screed laid across a number of individually controlled temperature zones.

The installation was completed on the ground and first floors of the school.

During the 23 days on site we installed and tested over 12 kilometers of pipe across 109 separately controllable heating circuits and 14 separate manifolds.

The school was left with a system capable of efficiently heating 1719m2 of floor space.

Home | Under Floor Heating | Wet Screed | Dry Screed | Wet Screeding | Flowing Screed | Dry & Wet Screed | Contact Us